The brief descriptions below are designed to familiarize you with our staff's training, professional credentials, and work experience.

CLICK HERE to view more photos of our team!
Dr. Terry J. Rowland, DDS
Dr. Rowland is a 1982 graduate of the University of Michigan School of Dentistry. He is a member of the American Dental Association, the Michigan Dental Association, and the Academy of General Dentistry. He especially enjoys inexpensively enhancing smiles and getting people out of pain. He has been offering gentle dental care to apprehensive patients in the Plainwell-Otsego area for 30 years (yes, he started his practice at the age of 8). He also loves children--he has four of his own--including triplets! His oldest daughter, Cassie, graduated from Washington University in St. Louis and is working in San Francisco; Tiffany has a degree in Biomedical Sciences from Western Michigan University and is attending the Ohio State School of Optometry; Brooke was Miss Michigan's Outstanding Teen for 2010 and graduated from Georgetown Law School; Dustin scored a perfect 36 on the college ACT test,has a biology degree from the University of Michigan and plans to attend medical school to pursue a surgical career. Dr. Rowland loves asian cuisine, electronic gadgets, reading, kayaking, traveling, teaching, and learning new things.
The Hygienists
Laura H., RDH

With over 20 years of dental experience, Laura stays active playing tennis, cross country skiing and biking. She loves international foods, volunteering, and reading (the book is usually better than the movie).
Amy W., RDH

With over 14 years of dental experience, Amy stays very active keeping up with her two young sons. When she gets free time she enjoys exercising, reading, performance singing, and spending time with family and friends.
The Assistants
Carol H.

With over 20 years of dental experience, Carol has a passion for training and rescuing dogs (at any given time she has 10 or more of her own). She is a member of the Kalamazoo Dog Training Club and works with Pet Resource Network Dog & Cat Rescue. In her spare time she enjoys motorcycling.
Beverly B.

With over 20 years of dental experience, Beverly loves watching science fiction movies. A former Navy cook, she enjoys whipping up tasty meals and treats. In her free time she dotes over her granddaughter Elaina and her toy poodle Sasha.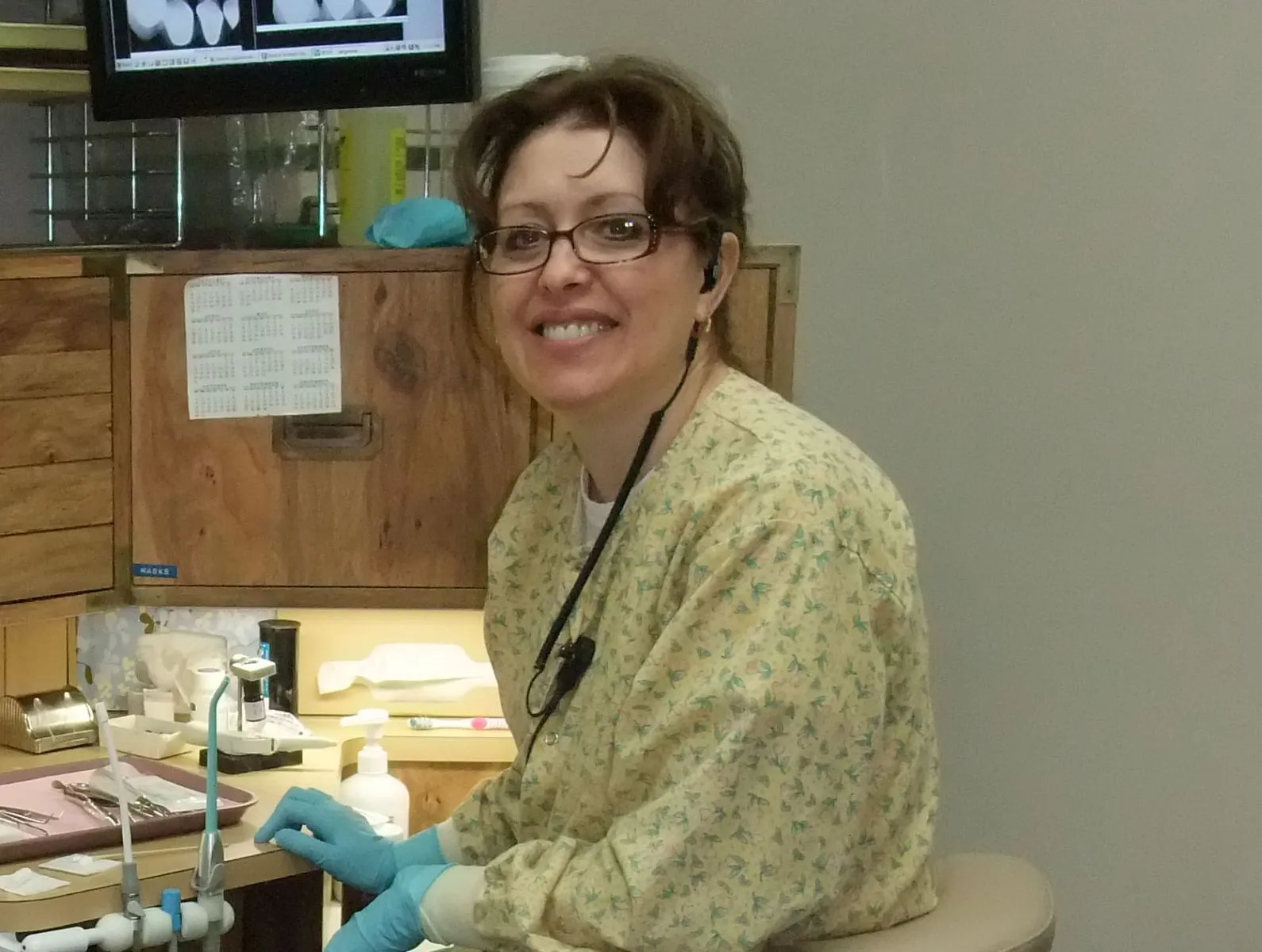 The Receptionist
Beth H.

With over 20 years of dental experience, Beth is a highly skilled coupon clipper and shopper. Her oldest daughter is attending Grand Valley eyeing a career in child pshycology and is working in a daycare, her youngest daughter is also working in a daycare after graduating from high school. She has also opened up her home to international students, hosting kids from 6 different countries, over the past 4 years.
The Office Manager
Leesa D.

Having almost 30 years dental experience, Leesa is also dance instructor and award winning costume designer. Her oldest daughter is a recent honors graduate of the University of Michigan Nuclear Enginering program. Her youngest daughter was a dance major at Western Michigan University. She also enjoys spending time with her husband and her dog Bob.